October 27, 2016
Open data: finding excellence in Chicago
Open data has formed a critical piece of a city's architecture – as vital as any other public service – and has empowered individuals and organizations to uncover insights that stimulate institutional change. Through work with groups like 596 Acres, which leverages public data to identify available land seized by the city and employs disadvantaged New Yorkers in the maintenance and development of these city-owned spaces, I have seen the ways data can transform lives – but not all cities have the same available data at a depth that allows institutional transformation.
Newark
Over the course of the Booker administration, the City of Newark had put interoperability and civic engagement first. From my time with IBM Corporate Citizenship collaborating with Mayor Cory Booker and the City of Newark on a "– following IBM's Smarter Cities work with the city in 2011, I had assumed the City of Newark had embraced at least some degree of open data standards, and sought to analyse Newark 311 system and its effectiveness. I was dismayed to discover the data had not been updated since Cory Booker had left office and current Mayor Ras Baraka had assumed the post.
Lesson 1: the data is not always there – and smaller cities struggle to keep up. 
What steps might Newarkers seeking to advance or participate in the civic discourse take to promote their city's data-friendliness? How does the average small city? And who are the best-practice leaders who drive these conversations, access and foster community?
Chicago
The City of Chicago's open data portal has not only created a home for data interoperable and downloadable across a number of data types and machine-readable formats; it puts the power of data engagement and ideation in the user's hands. The city's open data portal was a project of former IBMer and ex-CTO John Tolva, the pioneer of IBM's landmark City Forward initiative, a citizen-facing hub that promoted open data by making data friendly for consumers and business users. By emphasizing the enterprise dimension of data in the early days of the open data movement, Tolva advanced a new way of managing the challenges of city governance and made the business of government – dare I say – fun.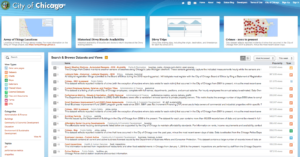 The City of Chicago's data portal's user experience makes searching for relevant information easy and understandable, even for the most basic user, and emphasizes transparency through its Github, video guides on Socrata, video tutorials, and sample code on the city's developer page. Each resource provides an avenue of entry for the average user and quickly demonstrate the skills necessary to manipulate and reshape Chicago's data. At a critical time for Chicago, this tool is a necessary public service to allow citizens and organizations to cultivate sustainable solutions to the city's challenges.
Lesson 2: empower the user, regardless of his or her data-savviness.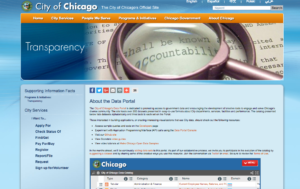 There are particular decisions that have been made here in the design of Chicago's portal that speaks to the city's overall commitment to transparency. The portal first invites the user to manipulate bike share data as well as manipulate crime rate projections from the early aughts to today, which implies the city, or the designers of this particular module, are open-minded and perhaps politically savvy in transparently communicating the city's success and failures. Although some of the particular data the City of Chicago elevates here might not express the most pressing policy or institutional challenge, the "editorial" choices in displaying particular data first demonstrates the city's data-forward orientation, and ready-made graphs allow users to cull insights on the fly.
Lesson 3: give the user a head start – emphasize and acknowledge transparency where a city does and does not excel. 
The City of Chicago made it easy to engage and even went a step further to put the power in the hands of the individual user. The site itself permits the user to not only rank and reconstitute the data but to create comparisons between data sets – this is far beyond what other municipalities see it necessary to provide but it does go further to put data manipulation and the business of insights in the hands of the user whether citizen, activist or civic entrepreneur.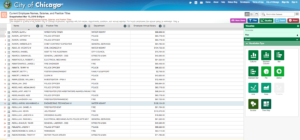 Data exercise
In the data exercise, I sought to determine which city departments reported the highest headcounts, and a relative overview of the employee salaries per department to understand where the money was flowing within the City of Chicago's government. Analyzing employee salary spending per capita for each department allows one determine any insights to be gleaned from the differences in the overall budget.
The personnel questions that bedevil government operations often have great political weight, and I sought to calculate the relative talent investment per capita across departments. Though police significantly outnumbered staff overall, the costs of the average IT, buildings, fire and budget professionals in the city government far exceeded the police salary. This investment raises interesting questions – what factors beyond union contracts led Chicago to set these overall budget levels by department, and can these salaries be more effectively deployed elsewhere? Can a higher salary incentivize more police to join the force in Chicago during a pivotal moment for the city? Why do teachers fall behind?
Highest Employee Salaries Per Department (Average: 77,187)
IT – 96,727
Buildings – 96,313
Fire – 95,700
Budget & Management – 91,989
Human Relations – 91,065
Treasurer – 90,526
IPRA – 90,064
Mayor's Office – 87,571
Board of Ethics – 86,697
Police – 86,610
Data as civic engagement tool
Open data must not be a budget-constrained exercise, as open data investments stimulate an ecosystem of apps, analysis, participants and vendors to work together more transparently and effectively, uncover shared value and new opportunities, and ultimately make government more efficient. Policymakers and digital leaders must create shared systems that allow small and large cities to share resources and think more effectively about shared knowledge and intelligence around shared problems.
Post Details
Category
Tags
Date
October 27, 2016
Author