September 15, 2016
Thinking value proposition design
User-centric design principles played a critical role in my leadership at the Office of the United Nations High Commissioner for Refugees and the US Association for the UNHCR. As global alarm around the refugee crisis reached a tipping point, both UNHCR, the US Department of State and US Ambassador to the UN Samantha Power sought to bring together an unprecedented set of collaborators domestically to address the crisis.
This effort coincided with the Techfugees movement, a global effort to bring the resources of the technology and innovation sectors to bear within and for the refugee crisis. This knowledge management-meets-CRM product was meant to streamline these interconnections, aid decisionmakers in identifying new opportunities and bridge brainstorms and connections to identify the "adjacent possible" in public-private partnerships to address core resource challenges at the root of the crisis. The resulting "lightweight" test product (a series of shared sheets, wikis and sites) helped prove the viability of a larger innovation collaboration platform.
dpi662_value-proposition-and-consumer-map_matthew-spector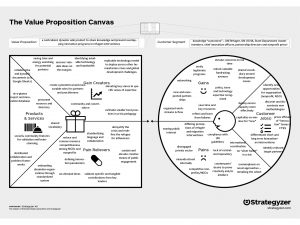 Insight #1: Through the value proposition design diagram, I have emphasized the ways we needed  to compel dissimilar entities to work together, leveraging a shared vocabulary to define project commitments and new ideas. Commentary and wiki-like features would be critical to the service to help parties – engineering principals at tech companies, NGO leaders, funders and UN staffers – work collaboratively and concurrently.
Beyond the creative exercise the wiki, and the compliance and collaborative requirements across jurisdictions, clusters and interests, I discovered through this process the need for a separate infrastructure to "feed" ideas into testing, funding and implementation. The effort needed to build capacity for UNHCR and other stakeholders to quickly and easily review and understand activities, approve or decline funding requests, and set priorities as they evolved and emerged in real-time.
Insight #2: Particularly in the case of this design diagram, much of the purpose each user sought was systematic support to validate their role and work, and to bridge networking opportunities to brainstorm together with new and unexpected partners to create value.
I was pleasantly surprised how strong a role the notions of individual "validation," "authenticity," and "saving face" played for these executives and principals. While the mission and vision were shared, there are many often conflicting personalities and interests among principals in a crisis situation – we needed to find ways to overcome these conflicts and capitalize on the recognition of individuals' contributions.
Post Details
Category
Tags
Date
September 15, 2016
Author